This article is about an upcoming feature or contains information about one.
(Edit | Similar)
Added information should have verifiable sources, as otherwise it may be deleted. After the release of the feature, this article may require some heavy rewriting; Only remove this template once those changes have been made.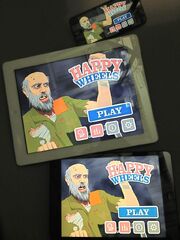 The (currently un-named) 
app
is the upcoming mobile version port of Happy Wheels for the iOS and Android operating systems. The iOS app was first shown at PAX East 2013. The iOS app's release date was scheduled for the first quarter of 2014, and development on the Android app will start immediately following the release of the iOS app. Unfortunately, the app did not get released at the planned time. The actual date of release is unknown. Responding to a question regarding the release date, the Fancy Force Twitter said, "I'm working super hard to make the "1st quarter" estimation, but in all likeliness, no. But soon."
iOS Version
Gameplay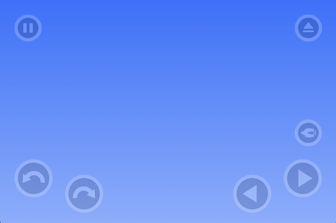 Gameplay will mostly be the same as the original game. The main difference is the controls. Because iOS devices don't have keyboards, the character will be controlled via on-screen buttons. The game also will support an iCade controller and Game Center. It will run at 60 frames per second, unlike the online version which runs at around 30 frames per second. The game will also include "slow motion". This could mean the frame rate will not drop when playing in slow motion. The slow motion will also include slowed down sounds.
PAX Demo
A playable demo of the game was also available at PAX East 2013. The demo contained a small amount of levels and a limited amount of characters (Wheelchair Guy, Segway Guy, Irresponsible Dad, Effective Shopper, Moped Couple, and Lawnmower Man). It is unknown whether or not the other characters will be added, though the Fancy Force Twitter confirms there will be a level editor, though there will be no user level browser at launch.
Controller Support
In response to a tweet regarding controller support, Fancy Force responded with "I will add support for the iOS game controllers. It currently supports iCade's 8-Bitty controller (sadly out of stock now)."[1]
Android Version
An Android version has also been confirmed. No gameplay videos or details have been released about it yet.
Geek Insider Interview
Geek Insider has interviewed Jim and Jason here. In the interview, Jason explains converting flash to iOS as "It has been very difficult. Putting aside things like developing touch controls and the physical limitations of mobile devices, simultaneously converting and updating the code as well as converting the assets from Flash has been a big undertaking. And like all other projects, a million other unexpected issues have come up."
Jason also describes the success of the mobile app being "The mobile space looks rife with opportunity. However, there is a saturation of 2D racing games currently in the app store. Plus, the casual gaming community is becoming more and more used to using one finger to play games. That said, I think our game is unique enough to attract new fans in addition to those who migrate from the online game. In other words, I see it being very popular."
A question was also asked about his opinion about pain vs free app models, Jason replies "Consumables–items that can be bought and then used up–annoy me, specifically in-game currencies (be it coins, berries, donuts, etc.) which are required to achieve certain goals that can't otherwise be done through game play. It obscures the actual cost of a game. It's great for capitalism, but it often seems unfair. The freemium model doesn't bother me when the cost to value ratio is very clear. And because of competition, many developers will over-deliver free content. To some extent, it balances out the effect of the money vampire apps."
Videos
References