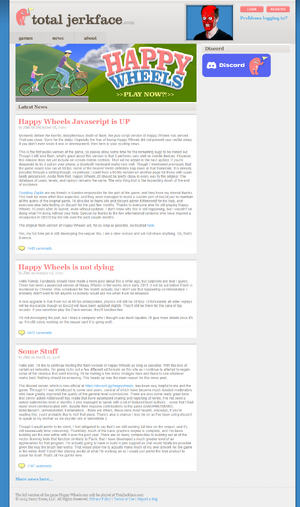 The
home page
is the main area of
Total Jerkface
. It features news updates, a large banner to play Happy Wheels at the top, as well as links to other pages, such as Games and
Forums
. The home page is also home to a poll in which
Jim
 will put up a poll question, i.e. "What should the next item be?", and users vote on which of Jim's ideas was the best for the next item (many poll options are jokes).
News Posts

site stuff
(deleted)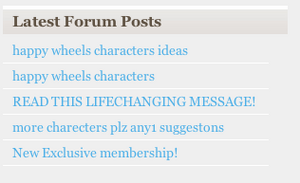 Trivia
As of March 12, 2014, Total Jerkface has been moved to a new hosting server. There have been some minor changes to the site.
At the home page, the font used for the news posts is Arial font, but when you click on the news post, the new page will be in Times New Roman font.