Replays are one of the many features of Happy Wheels. Replays are noticeable by the time bar at the top of the screen, slow motion and fast motion mode and the controls the player used. To access replays, click on the level you wish to see a replay of, and then click on the button "view replays & records". From there, you can see the fastest times, character used, newest, oldest, most painful, most humorous, and even the most skillful. Most often, the fastest replays are someone using Wheelchair Guy to rocket through the level, skipping all of the objectives.
Many level editors realize this and, when creating levels that are made to complete as fast as possible,
Wheelchair Guy
is not commonly used due to his boost feature.
Irresponsible Dad
one-wheeling his way to the end or a boosting
Moped Couple
are common forced characters for such levels. Replays with the '--.--' sign means that the user has not completed the level, instead they paused and saved the replay before finishing the level. You can save your replay by clicking the "save replay" button after playing the level if you are logged in. Replays can be accurate or inaccurate, depending on what type of machine you are playing it on. If the replay was saved on, for example, a Windows machine, it may not be accurate on a Macintosh machine. Only machines that have the same processors will have accurate replays. Accurate replays generally have an icon of a green hand resembling a thumbs up while inaccurate replays have a red, thumbing down hand.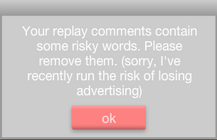 Glitches

Trivia
Slideshow