POKEMON TRAINING

Featured Level

Date created

March 3rd, 2011

Creator

Playable Character

Any

Importable?

Disabled

Play count

40,000,000+

Rating

4.45 (63,000+ votes)
POKEMON TRAINING is a featured level and is currently the most played level of Happy Wheels. You are a new Pokémon, and you have to run through a series of tests to get to the end. POKEMON TRAINING was uploaded on March 3rd, 2011 and has over 40,000,000 plays with 63,000+ votes. It was made by IAMURHUSBAND.
Gameplay
You can play with any character. To start the level, you come "out" of the Pokéball where a model of Ash Ketchum says "I CHOOSE YOU!". You then see an Irresponsible Dad NPC and a midair Pikachu waiting at the next obstacle, THUNDERBOLT.
You reach a certain position, then move to the center as fast as you can, before thunder bolts come from the sky to crush everything not in the middle of the room.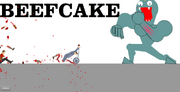 You then ride down an elevator to where a Machoke lies and kills the
Moped Couple
(and possibly you) by using his fist to uppercut them in the face. After taking a small plunge, also after seeing the text "JIGGLYPUFF IS COMING!", Jigglypuff comes through a wall and you must
escape to the back as fast as you can before you arrive at the self-destructing Pokémon Voltorb. You boost over with your quick reflexes before the
Landmines
explode in three seconds. After that, Pedobear appears and says "TOO OLD DO NOT WANT!". The final showdown is next - against the Psychic Pokémon (Mewtwo). You have an option to use a shield to protect yourself against the
Irresponsible Son
NPCs
he launches. As you reach the end of the level, a text version of the Pokémon theme song will start to play. If you survive, you win.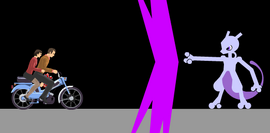 IAMURHUSBAND joined in September 2010. He is the only user apart from physx to boast five featured levels. His other feaured levels are INFILTRATION, Gorrilas rEVOLUTION, KING OF POP, and TJF All Stars DELUXE.
Honors
Formerly the 2nd most played level. It is currently the most played.
First level to reach 40,000,000 plays.
Trivia
The name of the level was changed to POOP for an April Fool's Day 2012 joke.
Ironically, Pedobear says, "TOO OLD DO NOT WANT!" even though Irresponsible Dad and Irresponsible Mom have their children with them.
Slideshow