LWPeterson
(also commonly known as Mr.Larry, or just Larry, and formerly known as MrLarrytheHacker) is an active site moderator on
Total Jerkface
. He joined Total Jerkface on December 29th, 2011, and was made a moderator in December 12, 2014. He is also an administrator on this wiki. As a moderator, his job is to delete rule breaking 
levels
.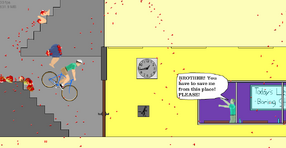 LWPeterson was likely made a moderator because of his long time playing Happy Wheels, as well as his making of original levels, and largely interacting with other players. He currently has no featured levels. However, it was because user Bert recommended Jim to make him a mod.
He is known for making a variety of levels, such as long, cartooney levels like ESCAPE SCHOOL!, detailed levels including =-Deserted Island-=. Most of his levels are difficult, and will need some restarts.
Social Media
LWPeterson has a couple of social media accounts, his main one being his YouTube channel, Mr.Larry, where he posts a variety of Happy Wheels videos such as tutorials, speed arts, letsplays, and more. Other social media includes a Pastebin, where he posts level data.
YouTube: 
http://www.youtube.com/user/MrLarrythehacker
Pastebin: http://www.pastebin.com/u/mrlarrythehacker
Trivia
LWPeterson has made by far the most levels out of any other moderator, at about 230 levels.
He is the most recently made site moderator.
He is the only active moderator to not have a featured level, despite years of playing and making original, creative levels.
Ad blocker interference detected!
Wikia is a free-to-use site that makes money from advertising. We have a modified experience for viewers using ad blockers

Wikia is not accessible if you've made further modifications. Remove the custom ad blocker rule(s) and the page will load as expected.