iDeViL360
 is a 
Total Jerkface Site Moderator
 on 
Total Jerkface
. He is the third most recently added moderator. The other mods are 
Bert
, 
Udie
, 
PhysX
, 
Mystic
, 
kirbypwnage
, and
Fatality14
. His job is the same as what other moderators do, delete levels that break the
Level Rules
 and ban users who repeatedly break them. He joined on November 28th, 2011 and became a moderator on November 24th, 2012 (the video showing that he became a moderator was uploaded on that day, but it is unknown if he really did become an admin on that day). He also has two levels in the Limbo series, both were 
featured
. iDeViL360 has said that he stopped making levels, and he uploaded his last level on January 16, 2013, titled "THE LAST ONE", but he will continue to make levels in the sequel of Happy Wheels as well as moderate the original Happy Wheels.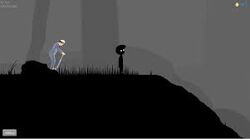 List of Featured Levels
Trivia
iDeViL360's real name is Steve Fuhrer
Ad blocker interference detected!
Wikia is a free-to-use site that makes money from advertising. We have a modified experience for viewers using ad blockers

Wikia is not accessible if you've made further modifications. Remove the custom ad blocker rule(s) and the page will load as expected.