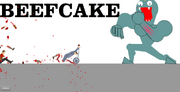 IAMURHUSBAND
is a user who joined
Total Jerkface
on January 2, 2011 according to his user page. He is known for his insanely mechanised levels, and has nine 
featured levels
, the most for any user. Some of his levels include
POKEMON TRAINING
,
INFILTRATION
and
TJF All Stars Deluxe
. Many users refer to him simply as "IAMUR". IAMURHUSBAND comes to the Happy Wheels xat chat room regularly, often under the username "iamur", though he is usually "working on a new level", so he doesn't chat very much. The way you pronounce it actually is I-am-ur(your)-husband.
2012 April Fools Day Joke
Edit
For April Fools Day 2012, the level name "string" was changed to "74832174839274891372" and "POKEMON TRAINING" was changed to "POOP", respectively. They have since been renamed with their original titles.