Ad blocker interference detected!
Wikia is a free-to-use site that makes money from advertising. We have a modified experience for viewers using ad blockers

Wikia is not accessible if you've made further modifications. Remove the custom ad blocker rule(s) and the page will load as expected.
WELCOME TO THE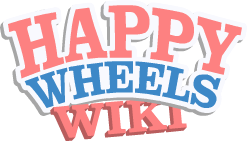 The Happy Wheels wiki is a community oriented project dedicated to Happy Wheels and other things related to it.
Since this wiki's creation on November 21st, 2010, there has been 81,586 edits across 266 articles from over 19 registered users.
Read Before Editing

Community

Other Information

Feel free to contact an administrator or bureaucrat if you need any help!

If you're new to editing, try editing in the sandbox to get yourself more acquainted with it.

The Happy Wheels Wiki is always looking for new members! Feel free to join in and contribute, if you're not sure where to start, try checking the links below. Alternatively, you can edit your user page to let users know about yourself.

Useful Links

Check out the stubs category to see which pages need work on.

See the categories page for a list of categories.

View this wiki's images here.

View this wiki's videos here.

Current Projects

Many featured level pages still need gameplay information and images.
Most images on the wiki need to be renamed to comply with the wiki's image guidelines.

Other Languages

This wiki is available in the following languages:

Recent Images

Have an image of your own to contribute? Upload it here!

What is Happy Wheels?!

Happy Wheels is a ragdoll-physics-adventure based Flash game created by Jim Bonacci and launched in June of 2010. Players control a selection of various, unique characters with their goal being to get to the finish line, activate a trigger that triggers victory, or collect a required amount of tokens while avoiding being splattered across the level by many hazards and obstacles. Users may create and share their own custom scenarios using the expansive level editor, play some of the over 6 million already-existing user-made levels, or take a look at some of the featured levels - the best levels in the game. The game is most notable for its dark sense of humor and its large amounts of blood and gore. The full version allows you to go to the up-to-date version, while the demo stays on v1.52, with limited features.

Jim Bonacci was motivated to make the game out of disappointment of other ragdoll-physics games. In an October 2010 interview, he stated that "No one was making their ragdolls die properly. They'd usually flop around harmlessly or in some instances have the same canned animation over and over." Originally, Happy Wheels was made for fun between Jim and some friends, it only contained Wheelchair Guy, and the first level, Happy Green Hills. After it gained some popularity, he made it into what the game is now, and published it to his website on June 4th, 2010.

The demo version of Happy Wheels has been available on many sites including Newgrounds and OneMoreLevel, but you can only play the full version of the game at Total Jerkface (Jim Bonacci's website) since June of 2010. The Mobile App has been release on August 19th, 2015, while the Sequel is currently being made. It's unknown when the sequel will be released.

The current version of Happy Wheels is v1.87e.

You can play Happy Wheels here.

Follow Jim and Jason on Twitter!

Like Happy Wheels on Facebook!

Who is your favorite character in Happy Wheels?

 

What type of level do you prefer the most?

 

Which of the 15 levels for Business Guy is your favorite?

 




| Version | Date Released | Update Information |
| --- | --- | --- |
| 1.87e | ??-??-20?? | |
| 1.87d | ??-??-20?? | |
| 1.87c | 11-2-2015 | Mouse actions are now saved correctly in replays. |
| 1.87b | 10-29-2015 | Mouse-activated triggers appear and disappear properly. |
| 1.87 | 10-27-2015 | Triggers can now be set to activate on mouse click. Triggered objects can now have multiple actions applied to them from the same trigger. Objects that can be double-clicked have a blue bounding-box when they are selected. |
| 1.86 | 9-23-2015 | Harpoons can now be set to a fixed angle. If this option is checked, the turret will aim in that direction and will fire as soon as a character crosses its path. Triggers can now fire harpoons and can also activate and deactivate them. Harpoons now have a little light that shows the state of the harpoon. If the light is red, it is in a normal state, blue means it has a fixed angle, green means it will only be fired by triggers, and black means that the harpoon gun is deactivated. Boosts now have a strength setting that goes from 10 to 100 (They were originally set to 20). |
| 1.85f | 2015 | |
| 1.85d | 2015 | |
| 1.85c | 5-18-2015 | Changing limits on joints with limits disabled will now re-enable them. |
| 1.85b | 5-1?-2015 | |