Home
Talk

45
209pages on
this wiki
WELCOME TO THE...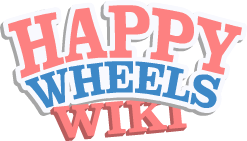 The Happy Wheels Wiki is a community oriented project dedicated to Happy Wheels and other things related to it.
We are currently hosting 209 articles with over 40 registered users.
What Is Happy Wheels?!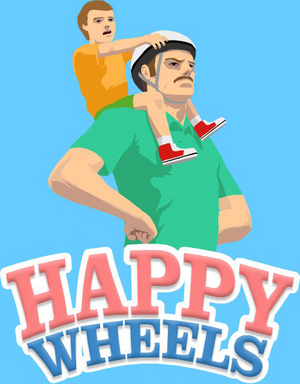 Happy Wheels is a ragdoll-physics-adventure based Flash game created by Jim Bonacci and launched in June of 2010. Players control a selection of various, unique characters with their goal being to get to the finish line, activate a trigger that triggers victory, or collect a required amount of tokens while avoiding being splattered across the level by many hazards and obstacles. Users may create and share their own custom scenarios using the expansive level editor, play some of the over 6 million already-existing user-made levels, or take a look at some of the featured levels - the best levels in the game. The game is most notable for its dark sense of humor and its large amounts of blood and gore. The full version allows you to go to the up-to-date version, while the demo stays on v1.52, with limited features.
Jim Bonacci was motivated to make the game out of disappointment of other ragdoll-physics games. In an October 2010 interview, he stated that "No one was making their ragdolls die properly. They'd usually flop around harmlessly or in some instances have the same canned animation over and over.". Originally, Happy Wheels was made for fun between Jim and some friends, it only contained Wheelchair Guy, and the first level, Happy Green Hills. After it gained some popularity, he made it into what the game is now, and published it to his website on June 4th, 2010.
The demo version of Happy Wheels has been available on many sites including Newgrounds and OneMoreLevel, but you can only play the full version of the game at Total Jerkface (Jim Bonacci's website) since June of 2010. A sequel and mobile app are currently being made, with the app expected to be released later this year, while the sequel's release date is unknown.
The current version of Happy Wheels is v1.75. This version includes various new features and bug fixes.
You can play Happy Wheels here.
Follow Jim and Jason on Twitter!
Like Happy Wheels on Facebook!
Read before you create or edit!
Community
Administrators and Bureaucrats
Latest Activity
Happy Wheels Version History (article)

12 March, 2014

v1.75 released. New Trigger Tool features, a button on each featured level to see more levels by that user, playable character is now also shown as a head in the user level browser, revamped search system, debug draw feature in the level editor, and various bug fixes.

24 December, 2013

v1.72 released. New character, Helicopter Man released, along with his NPC.

21 September 2012

v1.70 released. New character, Irresponsible Mom released, along with the NPCs of her and her children.

29 July 2012

v1.69 released. New: opacity added to text tool, spinning option for shapes, and level victory trigger.

21 July 2012

v1.68 released. New: Trigger Tool has been updated. More options besides unsleep have been added - delete self, delete shape, change opacity, impulse, set to fixed and set to unfixed. What can activate a trigger has also been added - the player, all characters, or unfixed shapes. Large dialogues in the editor can now be scrolled.

7 July 2012

v1.67 released. New Trigger Tool; used to trigger sound effects, fans, boosts, etc. Also comes with delay option. I-Beam, log, spike set, van and meteor also given sleeping options.

25 April 2012

v1.65 released. New auto-save feature. Allows auto-saves per 20 seconds. New message for the replay message box; triggered if you curse in replay comments.

19 April 2012

v1.64 released. New: Text saying 'rate [number]' triggers message box. Bug fixes: Polygon glitch fixed, Pogostick Man bug fixed. Pasting polygons onto different levels in the level editor now works, Pogostick Man is not easily dismembered with the 'Hide Vehicle' option turned on.

13 April 2012

v1.63 released. New character, Pogostick Man, along with his NPC.

26 March 2012

v1.62 released. New: Paddle Platform movement item added, "hide vehicle" option added to the level editor when characters are selected, mute button on start menu and a "release joints" option added to NPCs in the level editor.