Ready, Set, ROLL! Based on the popular game, Happy Wheels: The Series welcomes you to a magical place where wheels reign supreme and danger is a daily part of life.
- description for the show.
Happy Wheels: The Series is an animated series produced by Bunim/Murray Productions and Machinima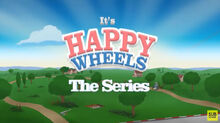 based off the game Happy Wheels. Like the game, the series involves characters going through brutal and violent courses, with excessive gore featured throughout. The series currently has one season, with 9 episodes total. Each episode runs from 3-5 minutes. The show is available for viewing at https://www.go90.com/shows/6guH8g5aFN7, but is currently only limited to viewing within the US.
Episode List
Season 1
| Episode Number | Date released | Name | Description |
| --- | --- | --- | --- |
| 1 | ??-??-2016 | Welcome To Happy Wheels | |
| 2 | ??-??-2016 | Friday Night Races | |
| 3 | ??-??-2016 | Dead Pool | |
| 4 | ??-??-2016 | D.E.A.T.H.S. Go Medieval | |
| 5 | ??-??-2016 | The Day After Wednesday | |
| 6 | ??-??-2016 | The Butterfly Effect | |
| 7 | ??-??-2016 | Stephen Saves The Day | |
| 8 | ??-??-2016 | Who Carted?! | |
| 9 | ??-??-2016 | Back To The Present | A time travel wormhole is discovered during the Friday Night Races, giving D.E.A.T.H.S. a life-changing peek into their town's history, possibly altering their future forever. |
Trivia