Custom Non Playable Characters
Comments

112
236pages on
this wiki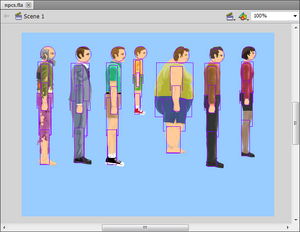 Custom Non-Playable Characters (also known as Custom NPCs or Homemade NPCs) are Non-Playable Characters made by the users of Total Jerkface. Jim made a news blog releasing the characters available at the time[1]. This was in the form of a .zip containing a .fla for Flash CS3 and up of the characters available at the time. Besides modifying these characters, the player can make false custom NPCs with the level editor, usually made with the poly tool. As these aren't true characters, they are not capable of blood, gore or ripped off body parts. Jason said that if the player were to make one, it should be for their own amusement.
Gallery
Trivia
There are many user-created levels made to showcase a user's custom characters. It is relatively uncommon for these characters to be incorporated into actual levels due to their construction.
The NPCs in the .ZIP file do not include intestines.
NPCs aren't always just people, they could be animals.
References