Balcony Terror

Featured Level

Date created

Feburary 22nd, 2011

Play count

33,500,000+ (4th most all time)

Creator

corey1987

Importable?

Disabled

Playable Character

Any

Rating

4.25 (74,000+ votes)
Balcony Terror
is a level on the
featured level
page. It is one of few featured levels without a finish line. Currently, it is the 4th most played level on
Happy Wheels
. The level was made by corey1987. It has a rating of 4.25 with 74,000+ votes.
Gameplay
You can play as any character. The level starts at the top of a building, from where you fall. As you descend, you discover multiple people on their balconies taking part in various activities such as partying, sun bathing, etc (see list of scenarios below). There are many hazards, including an armed gunman on one floor. This gunman is wearing a white hood and may be part of the Ku Klux Klan . When you make it down to the ground, you find that there is no finish line, but rather a van, an Irresponsible Dad NPC, and an NPC of the man from the Moped Couple, who is wearing a hat. If you wait long enough, body parts, fragments of your vehicle, and/or umbrellas may come raining down.
Trivia
It is possible to fly or jump over the second building using everyone except Segway Guy and Explorer Guy (Irresponsible Dad and Irresponsible Mom can use the "fly/jump" technique, but it is hard). A person, a wall and a table are featured on the second building.

Lawnmower on the other side.

Added by

Artist Smeargle

Balcony Terror has two little-known sequels: Balcony Terror 2 and Balcony Terror 3. Some users have also made their own balcony terrors levels.
There is no way to finish, which is very uncommon for a featured level.
Sometimes, when changing characters, you can hear Lawnmower Guy's lawnmower humming. This is because the level start is at the corner of the screen.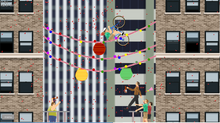 List of Scenarios